Every big e-Commerce websites of the world like AMAZON, EBAY offers this functionality to their customers, you can go to one of their product page and you'll see a textbox asking for zipcode/postcode to confirm delivery. For WooCommerce stores, we've develop this plugin so that you can also provide the same rich user experience to your customers.

A must have WooCommerce Premium Plugin that allows your site customers to check whether a product can be delivered at the provided zipcode / pincode or not. Our plugin provides 6 different methods by which admins can easily specify their delivery areas in the back-end. When a product is enquired for delivery from front-end by the user, the user's provided zip-code is searched/matched in all saved delivery areas and a Yes / No message is displayed to user accordingly on the front-end.
Allows Visitors & Store Customers To Verify Product Delivery Location Before Actually Placing The Order!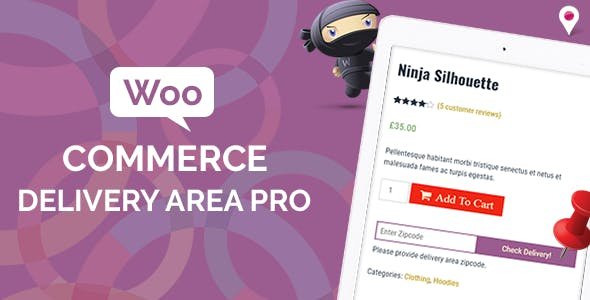 Six Ways For Defining Delivery Areas
Admin can use any of 6 methods to define their store's delivery areas.
Six Easy Methods For Defining Delivery Areas


Visitors will see delivery area verify form on product, shop, cart & checkout pages. They can easily check if a product can be delivered to the location specified by them before placing the order.
It can also be displayed on homepage / anywhere. Food orders processing & other e-commerce websites takes extensive use of it.
Delivery area can be defined by zipocode, by drawing on google maps, by country, by continent, by sub-continent & by specifying store location address with radius kilometer range for delivery.

Site admins can display their store's delivery areas to their customers with help of google maps. The map can display markers and shapes to indicate different delivery areas defined in backend.
Beautify google maps with snazzy maps skins easily from backend. Admin only needs to put a shortcode, thats it!

Display Delivery Area Form On Homepage
Admins can easily display delivery area verification form on homepage. Food orders processing & major e-commerce websites takes extensive use of it.
Admins can choose form template from back-end and can also change the UI aspects easily.