This article describes how to make a pop-up window in your White Label, which will appear when you click on the Book button in the search results of air tickets. The window may contain any advertising or additional information. In the example below, it contains a link to the Booking.com advertiser's website with an affiliate link.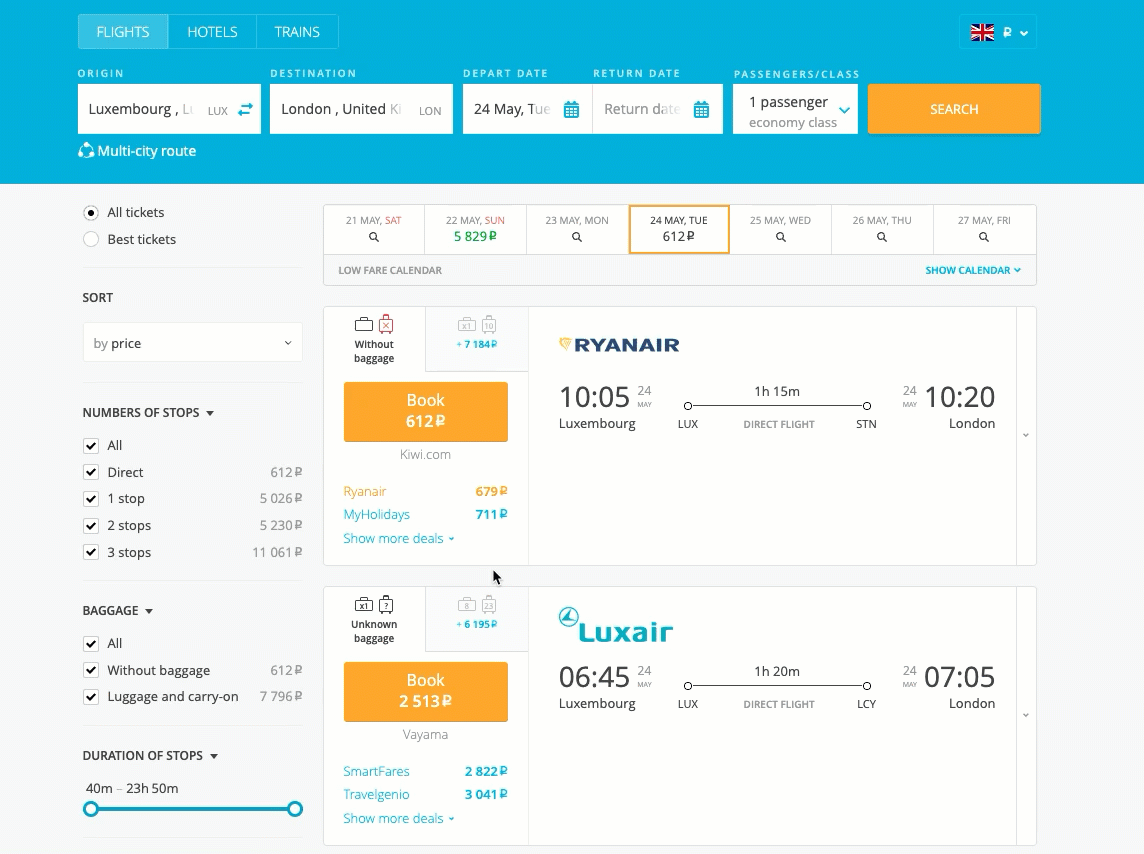 Preparing for the addition of an extension
At first, add the jquery library connection code to make everything work correctly. Open the White Label settings and go to the Footer section.
Add the following code in the code input box:
<

script




src

=

"https://code.jquery.com/jquery-3.3.1.min.js"




integrity

=

"sha256-FgpCb/KJQlLNfOu91ta32o/NMZxltwRo8QtmkMRdAu8="




crossorigin

=

"anonymous"

>
</

script

>
Please note! The jquery library connection code is only added once. If you add other White Label extensions, you do not need to re-insert the code.
Adding a pop-up window
The code, which is responsible for the pop-up, should be placed in the Footer of the White Label (comments are given in the code, for ease of change):
<!-- modal window -->


<

div

 

id

=

"feedback-hotel"

 

class

=

"hidden"

>
<

div

 

class

=

"js-feedback-hotel feedback-hotel"

>



<!-- semi-transparent background plane -->


<

div

 

class

=

"js-feedback-hotel-overlay feedback-hotel__overlay"

></

div

>


<!-- semi-transparent background plane -->





<!-- white window with content -->


<

div

 

class

=

"feedback-hotel__popup"

>



<!-- cross button -->


<

div

 

class

=

"js-feedback-hotel-close feedback-hotel__close"

></

div

>


<!-- cross button -->





<!-- title -->


<

div

 

class

=

"feedback-hotel__title"

>Bought a ticket - book a hotel room!</

div

>


<!-- title -->





<!-- description -->


<

div

 

class

=

"feedback-hotel__description"

>Up to 60% discount for our customers only</

div

>


<!-- description -->



<

div

 

class

=

"feedback-hotel__action"

>



<!-- booking button (link to booking.com from your affiliate account) -->


<

a

 

target

=

"_blank"

 

data-target

=

"booking"

 

class

=

"feedback-hotel__action-button"

 

href

=

"https://c84."

><

span

>Book a hotel room at</

span

></

a

>


<!-- booking button (link to booking.com from your affiliate account) -->



</

div

>



<!-- link to compare prices on White Label -->




<!-- replace http://travel link with your White Label -->


<

div

 

class

=

"feedback-hotel__compare"

>Or <

a

 

target

=

"_blank"

 

data-target

=

"hotellook"

 

href

=

"http://travel"

>compare prices on the website travel</

a

>
</

div

>


<!-- link to compare prices on White Label -->



</

div

>


<!-- white window with content -->


</

div

>
</

div

>


<!-- modal window -->



<

script

>



// Opening a modal window with a delay of 7 seconds after clicking on the "Book button ..."




setTimeout

(

function

() {
$(

'.ticket-action-button-deeplink'

).

on

(

'click'

, 

function

() {
$(

"#feedback-hotel"

).

removeClass

(

"hidden"

);

});
}, 

7000

);



// Opening a modal window with a delay of 7 seconds after clicking on the "Book button ..."





// Hiding the modal window after clicking outside the modal window


$(

'.js-feedback-hotel-overlay'

).

on

(

'click'

, 

function

() {
$(

"#feedback-hotel"

).

addClass

(

"hidden"

);

});


// Hiding the modal window after clicking outside the modal window





// Hiding the modal window after clicking on the cross button


$(

'.js-feedback-hotel-close'

).

on

(

'click'

, 

function

() {
$(

"#feedback-hotel"

).

addClass

(

"hidden"

);

});


// Hiding the modal window after clicking on the cross button


</

script

>
On the Color Scheme tab, you need to place the style code before the </style> tag:
/*

 

Hiding

 

form

 

and

 

buttons

 

*/

 



.hidden

 { 


display:

 

none;

 
} 


.hidden-price

 { 


display:

 

none;

 
} 



/*

 

Hiding

 

form

 

and

 

buttons

 

*/





/*

 

Modal

 

window

 

background

 

*/





.feedback-hotel__overlay

 {


position:

 

fixed;




top:

 

0

;




left:

 

0

;




z-index:

 

4999

;




width:

 

100

%;




height:

 

100

%;




background:

 

rgba(0

, 

0

, 

0

, 

.5

);


}



/*

 

Modal

 

window

 

background

 

*/





/*

 

Container

 

for

 

modal

 

window

 

*/





.feedback-hotel__popup

 {


position:

 

fixed;




background:

 

#fff;




z-index:

 

5000

;




left:

 

50

%;




top:

 

50

%;




margin-left:

 

-255px;




margin-top:

 

-189px;




width:

 

671px;




height:

 

378px;




border-radius:

 

5px;




box-shadow:

 

0

 

0

 

7px

 

0

 

rgba(0

, 

0

, 

0

, 

0.62

);




padding:

 

0

 

52px;




text-align:

 

center;


}



/*

 

Container

 

for

 

modal

 

window

 

*/





/*

 

The

 

graphical

 

element

 

"Hotel"

 

at

 

the

 

top

 

of

 

the

 

modal

 

window

 

*/





.feedback-hotel__popup:before

 {


content:

 

''

;




display:

 

block;




position:

 

absolute;




background:

 

url(data:image/png;base64

,

iVBORw0KGgoAAAANSUhEUgAAAUAAAAFcCAMAAACOWpd4AAAAvVBMVEUAAAD////////////////////////////////////////////////////////////////////////////////h8f////9Yt2l3en7y8/XW19r4aXzs7O7v8PL8/v/R6f/09feTlZnKPlP29/nu7/GNjpDy+f/9+v3x8fPw8PL25y75e4zf7v/4cYOAg4lhY2f5g5T8sb3q9f/5i5r8ucWDyZCY0qRiu3Lb796hpKm5vMGx3bnG5sxywoD5k6J2biUtAAAAFXRSTlMAP2Tf0J6vIQvtT8SIkHeEfnV/ensf1q/bAAAXxElEQVR4AezYR5K0MAyG4XG2iZOsJUuz5/53+3MO1LRQw4eZ9whPSajwA1YxqEYPnfOttcakNBPNKRljbetdN+hGhfgAEF5B6dG1id5Qat2oVXg3+1ZUelVuxVGreHW7J29oU8Y/XVQxNl07k0hz2zUXQ1SdJeFsp65yLrRPdJeS16F6vUdLd80+hor1XiztkH0JVeo9Wdot+1SbYeNp53xT0fCNiQ4ojaGO4WvpsNrTj2HUhg7N6Pi+u1fd5OBmgmh24ZR8BNTpCIObCKrpVIShnwiuqT8LYexngmzuT3GRdSLYkobnU5agswqaL3ja2lQ+tXwq/9byqfKpibbmA67f47xN7rvaesuyzXF+xN9eeTpRRqsgby8P7zc7hiIPEe8eN4aFlwViIZoGa/zczXh8PSFDBzSE6tbxW8PjI946hArFb+TpHW84QvCF9qbVXfJdW27a5Tbg/7nJXw3J72HSJ7oeDD224VluSbB8PhRCe+Aaq/Tm3c279+ZNTodd4wHicAgclOEQvuj504c2hT4CfP74fACENuzuZ/h8iIQmIJ6PkiEqeKdET8C3g3lNJr2f3zOfD5nweS+/Hn97eXvc7+Pn+OOHPoQOxK9kyAqCYPTy44c0hD4e7lcycOVgwej544cyhIcKevnxwxtCf9z94I8f1BC6dz9MwR5/faXWuD/i/63kE1X2/6vT+OsrucZa2k9N+H6SgpOS9QuJ1pryCVsXTGHH9+eST1nZ7Y06Wnw/eUEbxQB9BX4MQS/lN1ThxxAchA4wrbXkU7fQWkr+AOP7SQqmIH9A8P0kBQUOiavIjyHotvrpqvwYgvqOH8CSK6nc7zPYVubHEGy3+I3V+TEER76fAvADEFRcv2gA3l8A3mZMZAI6AD8IQcfzawDeT0FeWBvpBV5yhS3CS9wDHBCYQ9KLXuCSK61IXmJ7pQPykX0zYW9TZ6Kw9yVO9x3vXXC+B+yHkLvRpv3/P+sSmeOrqEwKzEmBLzm3t0ZIxOLNjGa09NeBZFCW3/P2BxBuIHlecg684weQdgeS3VixC6IbAD/WLNIwOOJEkNWb1gFkDYNdSgSJ/98Bxow40iM6cGsAQr5+bXUypTkwAM5rEgBSnHg60c5BVvEDABjG2vnIeMd0YAAMLi+D+fz3fpYECPnKVGZIdWAAvPzjj8v5/Hd/AiDJiYeFDFB8PH4oAEUnXo01BggH5rhwdHkZcT8JLgz5ChMckx24UBDZz/fmw5GpcOS2w+NFggjBicfVDTBmAgQDXFsKsv+K3LslJsBYNEGCARIA2m9tM3H0383IvQVxARJMcCimgGSAePvbQCJLASTfckiyACpMcLzjRBA5iIDfLlVw89K4TrWzVfAeyoEFUBNEIL9aLviM5cBCGgOAQQZtv8d1lMqFFeUDjPLKQWABFNIYihM/qzQL9ukAM0A3l1EG8OongFEewNugAZ4O0K8yI+7JBsh14QxaYGSur1LdAfCTBfAqD2AUsFwYWlVYlOmTDVAIIntASwEBCAD++HFz9ePHqT61zCtTSisicyNrZ8pRcAIYyEGEaoL98mcRYIB0gOb9LYDAZJABcBABIIo2QDzPByia4Fnp04DxPQEELBugoZLehAunbYEYRRtgcI8A47InBsd8A5QBOu4KgHBrQDFRGgBNESW4MAGgpFXJZPoZ3QCFIAKAkA0wOgKMACUVSpEpOc8KFqgKIlBcMpOZsgxQTmMKAERqg2uhJAAU0hiuCU7LhRC/XoBztyQD3LMB+lIYKbWZ/gYiu/Cn3UmfZBcuZoFwcJYLQ2U22ccUA+QHEaTdjgVeOWnMVcaXE0Qgv0QYeUoIIdw0RrZAO5EGQBDcMwHGJf4d54BvgAUS6UhKpMUxcG8DNMqeM84vAGSb4EDwYJoBEqZyiKywOZQECzwWQZAGMC7sw68VOYxmMWF/12KCwYHWKOUHEShtJAQRaibzmuzB/OUsILNWD1FyAUYOQCGNIfsw34P5C6pBPkB3RVoBkOfDzxUerFrS3wtL+qi3W6MkL/HzXThcFTvyO1AYoGZTaS5vKpkGTutUpiBtMklBhG+Cg2Ie/IYMECqwrWmxQL1FX9jmZKYxUCEf7lFDSAGAc5uIpWBvk3Faozmguc+hFRegX2RlfyR7MB+grP1tiSc27jrqQQcYF5kPT/keTDpcFEhl+TMgBRGowJpWl+nB7T/eJvuwdGr/XOnBofc12UqqG6DQreSrF6p8+PzXSUxhfBI9o7qP+G5FJZ7Ch+1EZqLLor9uIRlgLQJAWV818+HJLxbzVz6FX0MBgqBiEDzjDIHesSPeYinoY81a5mrhHX/xHmMQnCk8OEzMYLKEWgAQ8kzXw8o+PAO/ya5qEgMDPPJb5atugKvbsgnCBKv58G6CLFDhweHXG/9dtgwgZDpf3YeRCb7QJDEJDBAAm66lY4JJ9UTmBSbCmiRmm2rRVoCLbarqiczozlOBfhmAbRQAVk9k+nem0XEZF26nLuDCVQfBiSKGQMcg4rVSFwgiuijS0wyB4TEVWHgt1AJpTMVBEIuqQ80QiES6jUIiXX0QHGIeogGIqVzrhKmcAuAMq9Gq1fyv2xbrq2pdf4oNORXANhP8qtwYGctB+E0JeUk78SWedmOkqwjCwpJ+kyUs6SvD8DNFDBETa6+hwuyXtbP0TJnFCANi0lyAiTDwKfKYGXdLfW0mx15DZSa/a972+kydxQg+3FjBg0kAp+JSQnUPPhwOX5KlpJv67ddlTfWfky9p96r5sLScMGYCXCcHoy/eMk//+yerTxa11F94h6x+zQI47nSZByuTQ6btMlen+qSe+u2pnnVYuts5Iwbhr4eTvuYZQJPqSWH4rNMjAPySyfxuLy4SY4M5alI9+qwE2Os8JQO8WK2W8gs0p54E8Gnn/BGgBuC5MBGJFS68lF2oIfWVAMbCVGREAuilsgdpz1UD6wkAR50ZEaB3ShOEuUjD6gkAZ50BE6C3lfvfwHoCwIEA8E1FgN5xKuWJak69AFCWALDPAthCEQD2HwFqAU5JAD+V1+bTJv2DUg3PEwBOaQA3eCHzaYSXw33n2gFRw/MUgDsWwFxrwMt8Qt3xDZ2XMqUanicA3HXeUl0YHYbslzSSLaWG5wkAV50VC6Dp3qo9UgKEiC6catUmbTYUF54+XICcIDKlBpEHZ4FTWiK9aZVoAPs8gMgmFJJ/APsnEQEO6Bb4XlCTWtAASqsx8SPAostZs0eAugXV0SNA3ZL+8F4Arh2h4xVahH6mn1v4t/Sm+LfwAA7lbc2mAPQLAozXCoCKbc2nDQcYFwW4rgXg007vfgCG1iLFKkTHFS3yAVb9FhrAXufsfgCi30YrdFzTIg9g5W+hATyjHG8jA/yw+aAAaJ5P/7ABSsfb1AcsAdB0WufCH5rswtIBywkLIH7z4uBtAJs2Uovj87BABBDo2AJtDEAotL6lSD8MwA8fCAAn4iFzpQVKAI2LCi1cC3zj/8vemTC3bWtRGF7kfXuvNbKRsDLCQOQbtq9F9+3//61yoBxFkH1wpVyZNkc5TWJLvCCBD+cCZGcIZIJ7FoBWAd5vN9f35TMHKl+Wu9wNwHcbVTyJRuRjYBdyJcS9Hjkw5ufAdWQH6gFe6l60yR0IySlMI5KQfjEEnsKrDlw7B64jAZwCoPJFm1stQDgQfEQ8NCKVn6ITwpqWeN7lEd06nqRyPZIDp3qAt6qXDXOAS5VSOFGWEVOAcNdKCt8/OsciQBgDkcLqlw31r7tiFpYqLiN+B8YcILSMiOvnKI2BXeZAANS87qp84Zo7kABcNE5GzAFO84j49DnIGBgJQNUL1+Z8MICQBuBaRPf4HNyBMewY4Hl50YkRAOy2uUoXCEDlohOT8QKMW10l7BzgpLSK+QgAxq2uEjUA+WrmfOmn1w+w2+YqXeAAdUs/nY0IoOIq4RkAnimWvxsbwKgASJe/UyzAODaA94EDVC/AKC4BOn6AXVAB5EuAqmcRAvD/a0LFXzqCAFTNIXwZ5K8AxWWQFQtxE4DNu0bRtFS+/6PAk8pvBrABQOVC3Hwp+N06EHA0iPvyCbKAOMWU6pE7UL0U/IWVclgG2GQV/9+acjw8ApClc5CrZA5kEXBgAweqNyMgt9LObQNQrnjTCw4kEWInLB2o6IStHdgJ22EoN2QBwEXFexUqDoA0ApBlgLybECMChANVG7LoB0GkMMTdI0fIACEFwD4iA6gbAvWbUgHgRg5MKiQXpBgGoOIwkMZApLBiUyr1tmjDOxDSOhCTiGJbNP3GfAQgERrGI8RzwMWKcxCA2o355K0h9QAHjtADlLeGlDcn/QpQ2JxU3B73K0C6Pa5+g2YCsCN6TRFbABQ2aBZy2MV9BxjlDNZvUg+A4xABqNyk3nwj5bAe4Dv8N1CEHiDP4G+Mfpv/vXCgnMFyDu8FQEUGQzfcgvsKkBvwPwaSczjsM8AgZ7D4PGz3GaAVnoMzXXAL7idAbsALA22y1b/bX4BO+j9ZuW4J77ivACMBcksAsmnE7StAR6cQokthFBQAtk3b/1n+hLLP2bFMQ5YXAAoj4KVhupAtyAGWGyV+P2x516uVADo6hVAdyRbkAFHhJO6E7CdioaHKJwe2BKBgwCPDdShbkAJExcXUws/82LDleQrLBjw0XGfnsgUJwLyCmfLvSMyw5VMKEwcKBjw/MwXdMgvKDqzrtkYFy+lWp9jcLfWw5ekYKBvw1pR0OmcWFB2Yp1XdpgbhJxqBz481bHnmQNmA81NT1MQSRRFgqlyvt0Qt1LwhSuVTA2kEQNGIegmY1gMpXBcARks0MUTSzbQTAUKs4oDT1hxPUs0j4KoiYqkj++OiA53lN9FKCxKAHilTqrgA8HPKiQA9BSg6EAA9d6BsQK5Txt4JDvS+ThBpxXG8pY3HcR6B454ixnHPAfYHJQdSCNyAsgVDEWCqeILIXkCQHbgo30tO4Zp3AsRelYADa08BBsGAkgWJopDCvk4A2II3vv4Uw/21dDGPqH1SK7t4AfDx4j2+V3kSiVY2YEHXtLjgwLpNgNiSSwBccwfWAMTx+Dqp1Am90JHgB4KYzMpjILXQtSES7gWhUHLgsuIMII7XHI+YwrKLAbj2FGB/rAgwWOkeULYgUSw40ENyCnOAkJjCHHHuQJrCfAyMVmfAwhOxc+IY2ItNIpvggWTEckQCmCuuAvQEoLPyU7CgQysnMU/hLweIFK81AFN5AhD1KKVwsEyHZmMd8yTmACEFwGd2YPcgO5An8LHZXAeWyY0YYHyQAfIEtgdmC53wJB4vwAcZYCGBTwyku5WxcawAuw0ARqu9hYHueBLH3QP8BY3XR1CA9w8ywMgT+M5sp7NjTnDnAH8NfxM8mggAjBgAZYBOmkF08wgUdgzw1xAWrddHcAd2GwAMVjeD5LoWCOoB/oa295r+g8arIghA8CMAZX7XZnudHVmquAuAv0x//dz2NILpIxjA+CADjJbq6Mx8gS4slYt6gL9MQ/g1a/sbfQQD+CADjM5SXZgv0qRA8CmAla/6P56tHOk9YlLu1aHXr2h70qJ8r0IEYlhE9RTAbhVgX/4pgAV+E0OkSGK3lQMDcWAvtH3hHkDmEdI58o7EHYzsQKdMYD4TE4V1gFUv4sCYAOJ4woPWo+1J1dKBNMJXcDGNQCd8Brg2lPTHHgEMVjcDE93KBHMHouIZv/sQkDq9ABCtR9sz9/AIxLCIVD5P4Y4ArACwzO/WKHQpEgTAio6BXQgBFU/qG4/Wo+1oPBzGIuDiQoTHdQAQCbw+BlZwYJnfpdHo9FwkCIA0hQMArroHrUfbgQcASQQ6iUfkHYk7GA5Q4nd+alQ6tAXFbAxE49cARgCsllp5gEXbc/fwCMizCF9BbJ3fqleWwtEWdGiUmogEARBiSy6tpB/RCmIidBKLgIsrz+uBMbBKAAV+E6PV2bFEECmcMkcAKOD5lHyVDrHckSsAy/yOz4xap+cCQQAUKw5zaPAs+KocmAOMVjEAau8GQRAA5YrLCTq0A63V3wFKurElBQCE2II3cI8Kz0Kyi3k9tgB4Y3akE4HghgAhDUBoCIAnRpB2IoHCeAF+fP+8Ewh0emRLGilAX+R3JEwg+ql4/AA/VrufgJkOnOX6Y4wArW9aS+UOzI51aLlmf2QAiQYHSLQAaO27XT/BCfqv5XJ/jg2gLeu/5hl0bQt67/2YANqyrs2zaGK53Lz14wHobVETY4YnaF1TLdQRVdDLRzQvw096JJlWfgwAfTW1VvMAotBZmeDMV69f3s/K/M7MyxF0zetH2Dg9Pz1BqukrJ+in9kX58ZkEmrfVK1Y7H37+5QTHZ8KpfVF+0LUdpwnb+fD3z/JTnd6EzXQ2nzvrFn+g7DN+rh+Z95pNG6+3H57fBtKhk0zYbGiKmbM7kJuJ12sk+7lDM6AOzi0k3hP+XjHN7A41bUuXEy/1L7fmoeM6C0Rhp5db1UC3IUtG4t4HgBkJeP/X+uXAeGfTYPdPso6/ramSTs4wh8G7WfNQNgtRok2nPwxMv9KPNuLGcNuTkFiuXpo/P5jNslxYP4b0dWqLm8vH25fGyuhMLB+uXzFSM0+g7jdQ+m7Fy+nKvbccnx/F1/qy0vjKFIo/A72zEeS7gGidRy6R+leQr3T+O6pWQmWlyYDY//nBDBMsyP8N2MAs3ZblK7eP8SyE5EKtkwf5MEk7kDcCnGZlzOQb4/LH2K5EDebHmeVPO3lTXiQ0LPiVWG2bj2W+EzWoVr/uvsaDvDHghzfXrRI17ObNh7P5VNsg/zH9flh5B+wP8SY+bZox8E1UYlrSD0HeBUDxBr41I2G2EG8jgLwTEEQti0L3HWEvIby8I16IUXaPAvs3mDDIuxKq7LdvRsb2iyhRWP8euQ5+2TbjY7YUNfwAeWfgRyk7z5pRsv1uRBFj5d2xRlzBfG9Gy2Zd30A+qpGsWfZ7wjrWIB8A6Cer3vq9nZMPwY1x51bfj424hJY1AEhOlATdLqMLc9Nxs1mp9xrQeuz4Ugn9bYV+EM2iEh0ON53W2lZZUK02zfOwWYlzdCCvEsNR2I7kpDar5PnN5DSUZ4BOvIbke24JQ8F+HXvm0R3dQTIwIoEvRrPyHOGZ5SMJjTjCXtcvFf4PDKiTgHiovVTUmgwYYn+3JZ+hPIsVA4bkezo233aCY0BeIcmFTORIwSck9dNT4sF3PuupojyFe3X3bdM8L9s5HzJgOXqEkzxsaUULublKGfOtqK6sCpiDy7Z5cvafKncheKRfkqsbVjQFUnaHO2L+MMK1tuTLM9NnquRCiKF6jZLTZaHIi0cC2qufiaMrxidBKmRbqmAtwXkMPj0RXmra5ZcjL2G8MtqhLrKclICxNABAQDbzj1T2WQ33uom4w102aIUBLjhaLJppkGoYSoPkgLzfWC5g+texGHPI0C41Wx3lMZCaSDMNjOgp9ZAe9YMiIxMw2SmwDYZOGRq6yw0+JaepC+gzMYdmD/lgDc86UDqV9yXQCoGp7q1Ogk9PwHIJg8g4qdMf6r7m7BoopUUjOowH6SJfEwslPM0mwgXEHPVoHxtPurBj46xohAhHwXrKTSTNqe01AUOyXY/PancnMYa3HBOPcuGUY8z6UpB2mTioRgJC6ist9+QAZWjDBJx0kP5W2MrxPpGE+8GcKKE9kogytBZCUQlPcitHzCuGCX/o0NPRc0Hlf/yRfx3dvNJEUPTMm2mwKY2zSDeFOUzboXJ/BH38Yi2EHmzmAZm8R+OsTTOpHGMrL2qhiozt6YEyn0OnYK3OnVbZSaUY6iKh9tK0AEdnIoo5LGXohOMPc8JEeggxrzpUcngoVrRM1F7CFrl3Pe/I7m/vP3vhUGneTIWtqTvWhGjj8V02ymuAhUvTQLNtJlbDWj4ITRU8GfYfcWnH/r9y7uswYhAIAugAm6WT/miB/jt0DT4bheW1MQGJ0PXlIkImcX29LZBKu7pg2ZBLubriW5CMXFsyF2SjfuXMwRXpxJVDm0BCn+umXh9kZNtVY8PNkJLRNXNXMiSl7YrBdVOkpTR/8k+KxGybfTqxGVKzz9zbk48hu/B5xzseWIBKn0QUayitT0AF6wjq/4wCawkZ/d8MCazHqnj/By7VsCqtp1Dz0b8wvJGcVXGfH3H18c26Qvz8AAAAAElFTkSuQmCC)

 

no

-repeat;




background-size:

 

100

%;




width:

 

160px;




height:

 

174px;




left:

 

0

;




right:

 

0

;




margin:

 

auto;




top:

 

-36px;


}



/*

 

The

 

graphical

 

element

 

"Hotel"

 

at

 

the

 

top

 

of

 

the

 

modal

 

window

 

*/





/*

 

Icon

 

hiding

 

the

 

modal

 

window

 

*/





.feedback-hotel__close

 {


cursor:

 

pointer;




display:

 

block;




width:

 

36px;




height:

 

36px;




background:

 

url(data:image/svg+xml;base64

,

PHN2ZyB3aWR0aD0iMzYiIGhlaWdodD0iMzYiIHZpZXdCb3g9IjAgMCAzNiAzNiIgeG1sbnM9Imh0dHA6Ly93d3cudzMub3JnLzIwMDAvc3ZnIj48dGl0bGU+Q2xvc2UgYnV0dG9uPC90aXRsZT48ZyBmaWxsPSJub25lIiBmaWxsLXJ1bGU9ImV2ZW5vZGQiPjxwYXRoIGQ9Ik0xOCAzNWM5LjM4OSAwIDE3LTcuNjExIDE3LTE3UzI3LjM4OSAxIDE4IDEgMSA4LjYxMSAxIDE4czcuNjExIDE3IDE3IDE3eiIgc3Ryb2tlPSIjRkZGIiBzdHJva2Utd2lkdGg9IjIiLz48cGF0aCBkPSJNMTggMTYuODY5bDQuNTI1LTQuNTI2Yy40NTEtLjI2Mi44NzItLjI2IDEuMTMyIDAgLjI2LjI2LjI2Mi42OCAwIDEuMTMyTDE5LjEzIDE4bDQuNTI2IDQuNTI1Yy4zMDYuNDA0LjMwOC44MjQgMCAxLjEzMi0uMjA5LjIwOC0uNjI5LjIwNi0xLjEzMiAwTDE4IDE5LjEzbC00LjUyNSA0LjUyNmMtLjQ1MS4yNjItLjg3Mi4yNi0xLjEzMiAwLS4yNi0uMjYtLjI2Mi0uNjggMC0xLjEzMkwxNi44NyAxOGwtNC41MjYtNC41MjVjLS4yMDYtLjUwMy0uMjA4LS45MjMgMC0xLjEzMi4zMDgtLjMwOC43MjgtLjMwNiAxLjEzMiAwTDE4IDE2Ljg3eiIgZmlsbD0iI0ZGRiIvPjwvZz48L3N2Zz4=)

 

no

-repeat

 

50

%;




position:

 

absolute;




right:

 

-34px;




top:

 

-34px;


}



/*

 

Icon

 

hiding

 

the

 

modal

 

window

 

*/





/*

 

Title

 

text

 

(Bought

 

a

 

ticket

 

-

 

book

 

a

 

hotel

 

room!)*/





.feedback-hotel__title

 {


font-weight:

 

700

;




font-size:

 

1.

625rem;




margin-top:

 

146px;




line-height:

 

1.

875rem;


}



/*

 

Title

 

text

 

(Bought

 

a

 

ticket

 

-

 

book

 

a

 

hotel

 

room!)*/





/*

 

Description

 

text

 

(up

 

to

 

60

%

 

discount

 

for

 

our

 

customers

 

only)

 

*/





.feedback-hotel__description

 {


font-size:

 

1rem;




line-height:

 

2.

5rem;


}



/*

 

Description

 

text

 

(up

 

to

 

60

%

 

discount

 

for

 

our

 

customers

 

only)

 

*/





/*

 

Container

 

for

 

booking.com

 

button

 

*/





.feedback-hotel__action

 {


margin:

 

20px

 

0

;


}



/*

 

Container

 

for

 

booking.com

 

button

 

*/





/*

 

Common

 

style

 

for

 

booking.com

 

button

 

*/





.feedback-hotel__action-button

 {


font-size:

 

.66938rem;




line-height:

 

.875rem;




width:

 

275px;




height:

 

58px;




border-radius:

 

5px;




background:

 

#143a90;




box-shadow:

 

0

 

1px

 

0

 

0

 

#051f5b, 0 2px 3px 0 rgba(0, 0, 0, .3);




text-transform:

 

uppercase;




color:

 

#fff;




position:

 

relative;




display:

 

block;




margin:

 

auto;


}



/*

 

Common

 

style

 

for

 

booking.com

 

button

 

*/





/*

 

booking.com

 

Logo

 

inside

 

the

 

button

 

*/





.feedback-hotel__action-button:before

 {


content:

 

''

;




display:

 

block;




position:

 

absolute;




background:

 

url(data:image/svg+xml;base64

,

PHN2ZyB3aWR0aD0iMTEwIiBoZWlnaHQ9IjE4IiB2aWV3Qm94PSIwIDAgMTEwIDE4IiB4bWxucz0iaHR0cDovL3d3dy53My5vcmcvMjAwMC9zdmciIHhtbG5zOnhsaW5rPSJodHRwOi8vd3d3LnczLm9yZy8xOTk5L3hsaW5rIj48dGl0bGU+UGFnZSAxPC90aXRsZT48ZGVmcz48cGF0aCBpZD0iYSIgZD0iTTE1LjI1NCAxMC4wNTlWLjAyMkguMDEyVjEwLjA2aDE1LjI0MnoiLz48L2RlZnM+PGcgZmlsbD0ibm9uZSIgZmlsbC1ydWxlPSJldmVub2RkIj48cGF0aCBkPSJNNDcuMSAxLjM2N2MuMTc3Ljg5NC0uNTI2IDEuODI3LTEuNDI1IDEuODkzLS44MzcuMTEyLTEuNjc3LS41NDgtMS43NjYtMS4zOTYtLjEyNC0uNzguMzk1LTEuNTkyIDEuMTUtMS43OTQuODg5LS4yOSAxLjkyMS4zNiAyLjA0MSAxLjI5N3pNMzMuMTguODJjLjU2Mi4wMDQgMS4xMjUtLjAwNiAxLjY4NyAwIC4zNjQuMDA3Ljc2Mi4wNzggMS4wMi4zMy4yODkuMjc4LjMyNS42ODIuMzI3IDEuMDQ1LS4wMDUgMS44MDcgMCAzLjYxMy0uMDA0IDUuNDIuNDAxLS4wMjMuOTQ2LjA3MiAxLjE5LS4zMDEuNjktLjk1NyAxLjM2NS0xLjkyIDIuMDUzLTIuODc5IDEuMTM1LjAwMiAyLjI3Mi4wMDIgMy40MS4wMDItLjkwNyAxLjIzNC0xLjgyMiAyLjQ2MS0yLjczMiAzLjY5M2E0Ljk3NSA0Ljk3NSAwIDAgMS0uNTc2LjY1MmMuNDE2LjM3Mi42MzYuODY5LjkxMiAxLjMyNi43MTkgMS4zMTIgMS42MDUgMi41MzggMi40MjQgMy43OTktLjkwMy0uMDEtMS44MDYuMDE5LTIuNzA5LS4wMTQtLjUzLS4wMDktMS4wMy0uMjc2LTEuMjgyLS43MDItLjYwOC0uOTgtMS4xNTgtMS45OTItMS43NTQtMi45OC0uMTgyLS4zMDEtLjYyNC0uMjA0LS45MzQtLjI0Mi0uMDAzIDEuMzE0LjAwMiAyLjYyNi0uMDAzIDMuOTM4LTEuMDA5IDAtMi4wMTgtLjAwMi0zLjAyOCAwLS4wMDMtNC4zNjIgMC04LjcyNCAwLTEzLjA4N20xNy40NTUgNC41NmE0LjA3NSA0LjA3NSAwIDAgMSAyLjYwOC0xLjI2M2MxLjA2Mi0uMDk0IDIuMjM5LjA1IDMuMDY1LjczNy43NS42MTMgMS4wNSAxLjU2NCAxLjExMSAyLjQ2Ni4wMzcgMi4xOTUtLjAzNCA0LjM5LjAzNyA2LjU4NC0uNTgyLS4wMDgtMS4xNjUuMDI3LTEuNzQ1LS4wMi0uNDEtLjAyOC0uODI1LS4yMDgtMS4wMzUtLjU1LS4yNDktLjQxOC0uMjAyLS45MTMtLjIwNS0xLjM3NC0uMDAxLTEuMzA2LjAwNy0yLjYxMy0uMDAzLTMuOTItLjAxMy0uNDk1LS4xNDctMS4xMjUtLjcyLTEuM2EyLjQ3IDIuNDcgMCAwIDAtMi4yMTguNTU3Yy0uNTY2LjUyLS44MDggMS4yODQtLjgzIDIuMDEgMCAxLjUzMi4wMDIgMy4wNjUgMCA0LjU5OC0uOTg0LjAwMS0xLjk3LjAwMi0yLjk1NSAwdi05LjZjLjcxNS4wMzggMS40NjQtLjEwNSAyLjE1LjE0LjQyNS4xNDYuNjM1LjU1Ljc0LjkzNSIgZmlsbD0iI0ZGRiIvPjxwYXRoIGQ9Ik03NC4yOTIgNS41NWMxLjQxNC0xLjMyNyAzLjYxNy0xLjc0MiA1LjUyLTEuMjczLjczNi4xOTIgMS41MDkuNTE2IDEuOTIxIDEuMTUzLjQxMS42MzQuMTkzIDEuNDA3LjI0NyAyLjEwNi0uNTc0LS4wMTEtMS4xNDcuMDIzLTEuNzE4LS4wMTUtLjQwMS0uMDQyLS42NzQtLjM2OC0uNzk0LS43MDUtLjA4OC0uMjU3LS4zOTItLjM0NS0uNjM4LS40MTQtMS4wMjItLjIyNi0yLjE4NC4xODUtMi43NDQgMS4wM2EyLjgzOSAyLjgzOSAwIDAgMC0uMTg3IDIuNzY1Yy40MTQuODU4IDEuNDEyIDEuMzU4IDIuMzkgMS4zODMgMS4xNzUuMDU3IDIuMjY4LS41NSAzLjA1My0xLjMzLjM5OC42MjguODA1IDEuMjUgMS4yMDIgMS44OC0xLjk3NyAyLjE1NC01Ljg3MSAyLjQwNC04LjEwMi40NjQtMi4wOTItMS43NzMtMi4xNDYtNS4xODktLjE1LTcuMDQzIiBmaWxsPSIjMDBBREVGIi8+PGcgdHJhbnNmb3JtPSJ0cmFuc2xhdGUoOTQuNjgzIDQuMDkpIj48bWFzayBpZD0iYiIgZmlsbD0iI2ZmZiI+PHVzZSB4bGluazpocmVmPSIjYSIvPjwvbWFzaz48cGF0aCBkPSJNMi43NiAxLjQ0M0MzLjM2Mi43MzggNC4yLjE4OCA1LjE1LjA2MmMuOTI0LS4xMjQgMS45NTIuMDMyIDIuNjcuNjQ5LjMzLjI2OC41MzkuNjQuNzY1Ljk4OUM5LjI2Ljc3NyAxMC4zNC4xMzMgMTEuNTEuMDQxYzEuMDQtLjA5MiAyLjIxMi4xMzkgMi45MTIuOTUuNjc4Ljc4Mi44MiAxLjg0OS44MzIgMi44MzctLjAwMiAyLjA3NS4wMDQgNC4xNS0uMDA1IDYuMjI1LS43MjctLjA0Ni0xLjUwMy4xMTgtMi4xOTItLjE3My0uNTMtLjI0Ny0uNjI0LS44ODItLjYxNC0xLjM5MyAwLTEuNTE0LjAwNi0zLjAyOSAwLTQuNTQyLS4wMzEtLjQ3My0uMDk4LTEuMDgzLS42LTEuMzA3LS42NS0uMjU2LTEuNDA4LS4wMDctMS44ODQuNDYxLS42MzIuNjE3LS44OTIgMS41MS0uOTM3IDIuMzYuMDAyIDEuNTI4LS4wMDMgMy4wNTcuMDA1IDQuNTg3LS45MzguMDEyLTEuODc2LjAwMi0yLjgxMy4wMDVWNC4yNmMtLjAxLS40OC0uMDUyLTEuMDEyLS4zOTUtMS4zOS0uMzM2LS4zOC0uOTMtLjM5OC0xLjM4OC0uMjU0LS42NC4yMjctMS4wNjcuODA4LTEuMzE2IDEuNC0uMy42OTMtLjM1IDEuNDU1LS4zNTEgMi4xOTh2My44MzhILjAxM1YuMjRDLjczLjI3NCAxLjUxLjExNSAyLjE3MS40NmMuMzc1LjE5My40ODYuNjE2LjU4OC45ODIiIGZpbGw9IiMwMEFERUYiIG1hc2s9InVybCgjYikiLz48L2c+PHBhdGggZD0iTTQzLjcgNC4xYy43OTMuMDM1IDEuNjEzLS4xIDIuMzguMTIyLjU3My4xNzYuODU0LjcyMS44NTMgMS4yMjMuMDA5IDIuODIyIDAgNS42NDMuMDA0IDguNDYzaC0zLjIwNWMuMDE2LTMuMjctLjAyMy02LjUzOC0uMDMyLTkuODA5bS0yOC42MTggMi40YTIuMjgxIDIuMjgxIDAgMCAwLTEuNDAzIDEuMTMyYy0uNjE2IDEuMjEtLjM4IDIuOTQ1LjkyIDMuNjcgMS4wMTUuNTYyIDIuNDc2LjI4NyAzLjEyMS0uNjY0LjctMS4wNC42NTYtMi41MjQtLjE4LTMuNDg1LS41ODctLjY1OC0xLjU5Ni0uODktMi40NTgtLjY1M20tLjQ1Ny0yLjMwNmMxLjY1My0uMjk2IDMuNDgxLjA0NiA0Ljc1MiAxLjEyNSAyLjA4IDEuNzM2IDIuMjE5IDUuMDg1LjM2NCA3LjAxMy0yLjAwNyAyLjExMS01Ljk4MiAyLjExLTcuOTYtLjAzOC0xLjkxLTIuMDI3LTEuNjM0LTUuNTkxLjcxNS03LjIxOGE1LjMxNCA1LjMxNCAwIDAgMSAyLjEzLS44ODIiIGZpbGw9IiNGRkYiLz48cGF0aCBkPSJNMjYuNDM3IDYuNDkxYy0uODMuMjEyLTEuNDQ4LjkwOC0xLjY0IDEuNjg0LS4yOTUgMS4xIDAgMi40NjQgMS4wOCAzLjA5NS44Ny41IDIuMDg3LjQxIDIuODM1LS4yNTQuNjMzLS41NS44Ni0xLjQwMi44MTktMi4xOS0uMDI5LS43NDMtLjM1LTEuNTEtLjk4Ny0xLjk2OS0uNTg2LS40MzgtMS4zOTUtLjU0Ni0yLjEwNy0uMzY2bS0uNTQ3LTIuMjg4YzEuNDUzLS4yNjcgMy4wNDMtLjA2OSA0LjI4Mi43MjZhNC42MjggNC42MjggMCAwIDEgMi4wNTYgMi44NDljLjM2NiAxLjU0MS4wMzUgMy4yNzQtMS4wODQgNC40NzktMS45NjQgMi4xNi01Ljk0MyAyLjIxLTcuOTY4LjEwMy0xLjgxNS0xLjg2MS0xLjc2NS01LjA3OC4xNC02Ljg2Ny42OTMtLjY2NSAxLjYxMi0xLjA5OCAyLjU3NC0xLjI5IiBmaWxsPSIjRkZGIi8+PHBhdGggZD0iTTg3Ljk5MiA2LjQ3OWMtLjYyNC4xNS0xLjE2My41Ny0xLjQ1NiAxLjEwOS0uNTc5IDEuMDg3LS40NjIgMi41Ny41IDMuNDMzLjg3OC43OTUgMi40MjguNzQ1IDMuMjYzLS4wODUuNTQzLS41MzMuNzYtMS4yOTcuNzM0LTIuMDIzLS4wMDQtLjgwNC0uMzYtMS42NDYtMS4wNzUtMi4xMTQtLjU2My0uMzgtMS4zMDMtLjQ3LTEuOTY2LS4zMm0tLjQ1LTIuM2MxLjY1LS4yNzQgMy40NjYuMDg3IDQuNzE1IDEuMTggMi4wNDIgMS43NTIgMi4xNTggNS4wNzcuMzA0IDYuOTktMi4wMDIgMi4wOC01LjkyIDIuMDg1LTcuOTEtLjAxNC0xLjgxLTEuODkzLTEuNzI1LTUuMTU2LjI1MS02LjkxNy43Mi0uNjU0IDEuNjYtMS4wNzcgMi42NC0xLjI0IiBmaWxsPSIjMDBBREVGIi8+PHBhdGggZD0iTTYyLjY4NSA2LjE1Yy0uNjcuMjM4LTEuMDQuODktMS4xNTMgMS41MjEtLjE2Ljg0LS4wNDYgMS43ODQuNTEyIDIuNDgzLjcyLjkxNSAyLjQwOS45NjQgMy4xMzYuMDMyLjQ5NS0uNjU1LjUyLTEuNTA4LjQ2LTIuMjc5LS4wNi0uNjUtLjMzOC0xLjM3My0xLjAwMi0xLjY3N2EyLjcxIDIuNzEgMCAwIDAtMS45NTMtLjA4bS0xLjQ5MS0yLjI3YzEuNTI5LS41NzMgMy40NTMtLjQ2NCA0LjcyLjU5LjE3Ny0uMzI3LjQ4MS0uNjAyLjg3Ny0uNjY4LjU5Ny0uMDk1IDEuMjA2LS4wMyAxLjgwOC0uMDUuMDAyIDIuOTg0LjAwMSA1Ljk2Ny4wMDEgOC45NSAwIDEuMDktLjM1IDIuMjEzLTEuMTU4IDMuMDIxLTEuMDQyIDEuMDYzLTIuNjIgMS41MTEtNC4xMjUgMS41NTctMS40LjAyMi0yLjgxNC0uMjkyLTQuMDQzLS45My4yMzctLjU0MS40MjItMS4xMDcuNzE5LTEuNjI0LjE1LS4yNy40OS0uNDEuODA2LS4zNTcuNDk3LjA4NS45NjguMjgyIDEuNDc0LjM0MS44ODYuMTI0IDEuODkuMTA3IDIuNjM2LS40MTUuNTY3LS40MDUuNzQtMS4xMS43LTEuNzQ2LS45NDguNzQ2LTIuMjcuODc0LTMuNDUxLjY3My0xLjE4NS0uMjAzLTIuMjU3LS44OTctMi44ODgtMS44NTUtLjg1Ni0xLjI3OC0xLjAyMi0yLjg4LS43MDMtNC4zMzguMjktMS4zNTEgMS4yMy0yLjYzIDIuNjI3LTMuMTVNMy4wNSA4LjI4M2MtLjI5LjE3MS0uMzM3LjUxNS0uMzQ1LjgwOS0uMDAyLjg1Ny4wMDEgMS43MTQuMDAxIDIuNTcuODQyLS4wMDQgMS42ODYuMDA2IDIuNTMtLjAwMi41NzUtLjAxIDEuMTY0LS4yOTggMS40MzYtLjc4Ni40MS0uNzQuMzMtMS43OC0uMzcxLTIuMzQyLS41NzQtLjQ1Mi0xLjM2Ni0uMzk1LTIuMDY2LS40LS4zOTUuMDE2LS44MzUtLjA2MS0xLjE4Ni4xNU0yLjk3IDMuMTk0Yy0uMjM2LjE5NS0uMjU2LjUxLS4yNjUuNzg0LS4wMDIuNzA3LjAwMiAxLjQxMiAwIDIuMTE4LjczMy0uMDAzIDEuNDY2LjAxIDIuMi0uMDAzLjQzOC0uMDA4Ljg4MS0uMTg4IDEuMTUtLjUyLjUyOS0uNjc4LjQ5OS0xLjc5NC0uMjU2LTIuMzE2LS41MTctLjM1NC0xLjE4OC0uMjU1LTEuNzg3LS4yNy0uMzUuMDA3LS43NjgtLjA0NS0xLjA0Mi4yMDdtLTIuOTY4LS45OUMtLjA0NiAxLjQ2Ni42NzIuOCAxLjQ1Mi44MmgzLjU2NmMxLjE3MS4wMjUgMi40MS4zNDggMy4yMzggMS4xNjUgMS4yNzcgMS4yMzUgMS4yIDMuNDMyLS4xMTYgNC42MTctLjE1NS4xMzYtLjMxOC4yNi0uNDc5LjM5LjY3OC4zMTggMS4zMDUuNzc5IDEuNjQyIDEuNDMuNjEyIDEuMTcyLjUzOCAyLjY2Ni0uMjQgMy43NTUtLjg1NyAxLjE5NC0yLjQ1IDEuNy0zLjkyNyAxLjczLTEuNzEuMDA2LTMuNDIxIDAtNS4xMzMuMDAzVjIuMjAzIiBmaWxsPSIjRkZGIi8+PHBhdGggZD0iTTcwLjc5MSAxMC43Yy45MjktLjI5IDEuOTgzLjQ1MyAyLjAzMyAxLjQzMi4wOTcuODYtLjU5IDEuNzA4LTEuNDUgMS43NjYtLjg0OC4xMDktMS42OS0uNTczLTEuNzYzLTEuNDMxLS4xMTEtLjc4LjQyLTEuNTggMS4xOC0xLjc2OCIgZmlsbD0iIzAwQURFRiIvPjwvZz48L3N2Zz4=)

 

no

-repeat;




left:

 

0

;




right:

 

0

;




margin:

 

auto;




width:

 

110px;




height:

 

18px;




bottom:

 

10px;


}


/*

 

booking.com

 

Logo

 

inside

 

the

 

button

 

*/





/*

 

Description

 

text

 

of

 

booking.com

 

button

 

*/





.feedback-hotel__action-button

 

span

 {


position:

 

absolute;




top:

 

10px;




left:

 

0

;




right:

 

0

;




margin:

 

auto;


}



/*

 

Description

 

text

 

of

 

booking.com

 

button

 

*/





/*

 

Container

 

for

 

modal

 

window

 

(with

 

changes)*/





Inherited

 

from

 

div.feedback-hotel__popup




.feedback-hotel__popup

 {


position:

 

fixed;




background:

 

#fff;




z-index:

 

16

;




left:

 

50

%;




top:

 

50

%;




margin-left:

 

-255px;




margin-top:

 

-189px;




width:

 

510px;




height:

 

378px;




border-radius:

 

5px;




box-shadow:

 

0

 

0

 

7px

 

0

 

rgba(0

, 

0

, 

0

, 

0.62

);




padding:

 

0

 

80px;




text-align:

 

center;


}



/*

 

Container

 

for

 

modal

 

window

 

(with

 

changes)*/





/*

 

Container

 

for

 

compare

 

button

 

*/





.feedback-hotel__compare

 {


font-size:

 

.75rem;




line-height:

 

1.

0625rem;




letter-spacing:

 

.0125rem;




text-transform:

 

uppercase;


}



/*

 

Container

 

for

 

compare

 

button

 

*/





/*

 

Link

 

to

 

White

 

Label

 

*/





.feedback-hotel__compare

 

a

 {


color:

 

#009eca;


}



/*

 

Link

 

to

 

White

 

Label

 

*/